MTS is specialized in development, manufacture and distribution of innovative Spark Wave® therapy systems that are successfully used worldwide in orthopedics, traumatology, wound care and urology.
The patented Spark Wave® technology guarantees the most effective shock waves with high treatment quality as well as excellent treatment results.
MTS products have been developed in cooperation with internationally renowned universities and research institutions and MTS is considered as a pioneer in the field of non-invasive tissue healing and regeneration.
Overview devices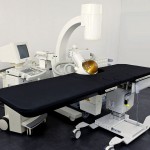 ESWL lithogold LG380
lithotripsy device
read more
https://www.mts-medical.com/en_US/produkte/urologie/